I was sitting at my craft table Friday and there were lots of blue, long tailed & great tits in my garden. They were drinking the drops of water from my Acer. I only manages to get these two blue tits as they were all moving so fast, Its been a long tone since I have taken any pictures of birds.
Had a funny day yesterday I had three phone calls in a row and that is an unusual thing,one was from a Pal and she asked if it was OK to come over and of course I said yes as I really like company and its always nice to see people. She stayed till 6 PM and we had a great chat and catch up.
These two blue tits are on my shed,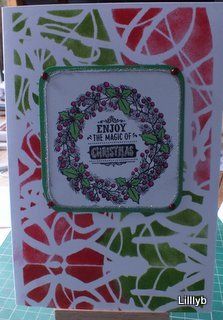 18 x 13 cm card blank and envelope,

8 1/2 square snippet of green card,

7 1/2 square snippet white card,

Brett Weldele scribble stencil,

Mowed lawn, Fired brick, distress ink,

Classic Christmas Clear stamps

Magenta, grass promarkers

Ice white tonic glitter,

Ruby slippers tonic glitter drops.
Challenges I will enter this card for are;