Had a lovely day on Monday when my mate KathyK came round for coffee and a mince pie, It was nice to have a coffee and a natter with Kathy,
I am still trying to get all my cards finished and think I still have a couple to make, I think mojo has escaped maybe he will come back soon as its nearly Christmas and I really need to be getting on with them, My mojo came home for awhile and I made some cards hope it stays now,
Yesterday KathyK
and I were chatting and Kathy challenge me to make a card with the things I have and told me things I had to use in this challenge. I made a card but ended up making three more before I was satisfied This is the card I made yesterday.
<
18 x 12 cm card blank & envelope,

13 x 11 cm blue card stock,

12 x 10 cm white card stock,

Kaiser craft stains clear stamp

A6 music background clear stamp,

Banner & sentiment stamp

Iridescent mica pigments.
Challenges I will enter this card for are;
As its work desk Wednesday.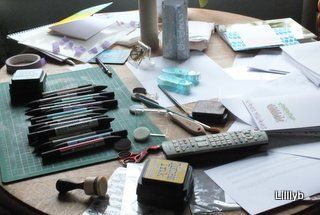 My work desk
18 x 12 cm card blank and envelope

Anita's wooden Christmas pudding stamp,

Holly Stamp,

promarkers cinnamon, mint green, magenta,
Challenges I will enter this card for are;