Morning all.
Life has just caught up with me and I have not been able to blog a much as I wanted to. I have had a couple of friends round for the past couple of days and last night went to help another friend who was have a problem with her computer which was funny when you think I don't know a lot about computers myself. It turned out she only wanted to ask about logging into craft forums, I helped her with that and then we had a chat and a good laugh for the rest on the evening.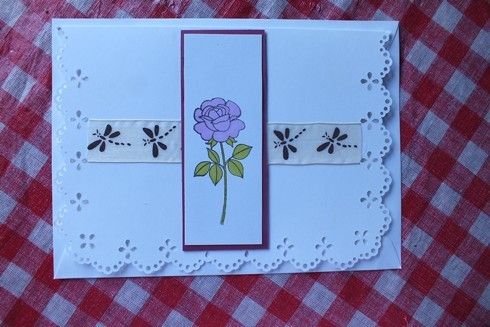 Materials used,
8 x 6 card blank with a decorated edge and envelope
Rose stamp
small piece of ribbon
Snippets of red and white card.
pro markers...pink carnation...lime green
I'll be entering this make for the following challenges .....
Brown Sugar - challenge #158 - Anything goes
Sister Act - challenge #118 - Anything goes
Simply Create Too - challenge #91 - Anything goes
Wish me luck!