Weather sure was cold and wet yesterday. Its always the same when I have to go out. Hope all those affected by the floods are safe and warm.
Yesterday I went to knit and natter in the local church hall. There are about 13 on us go and I have to say there is more natter than knit, Its a fun group and I enjoy the time there.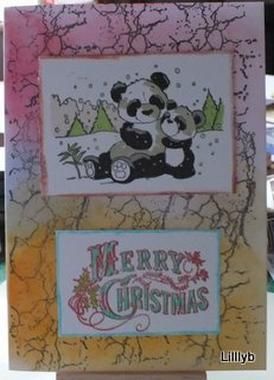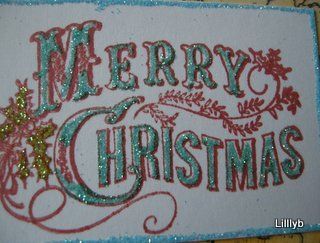 A close up of the glitter
Materials used;
18 x 13 cm card blank and envelope,

7 x 9 & 8 x 5 snippets of white card,

Kaisercraft crackle clear stamp,

Teddy and merry Christmas clear stamps,

Distress ink, tumbles weed, Festive berries, spiced marmalade,

Martha Steward limeade,cherry Popsicle,& sugar cube glitter..
Challenges I am going to enter this card for are;