Hello again.
Well we still are having the rain and I just wonder sometimes where it all comes from. I remember once when I was young [yes I can remember that far back ] saying to my Mum how come there is all that rain up there and where is it kept when the sun shines, The innocents of a child is wonderful.
It still doesn't seem possible that it's Christmas in a week. I posted the last [ I hope ] of the Christmas cards. nothing left now but maybe give Christmas card making a break for awhile,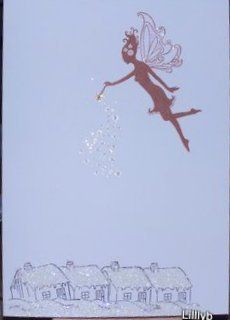 To show the glitter more.
Materials used,
18 x 13 card blank and envelope,

Woodland cottage Scenic Cottage clear stamps,

Fairy and dust clear stamp

Sepia Archival ink,

VersaColor black

Glitter frosting, Hint of green

Martha Stewart Sugar cube
Challenges I will enter this card for are;